What is Cardano?
There are many interesting projects in the blockchain space. One of the most interesting projects to come out is Cardano. Similar to Ethereum, Cardano is a Proof-of-Stake (PoS) smart contract platform but differs because of its layered-architecture, offering scalability and security.
What makes Cardano even more exciting, is that it's built on scientific philosophy and peer-reviewed academic research, conceptualized by Charles Hoskinson, who also happens to be one of Ethereum's co-founders.
While Ethereum continues to play contender against DeFi, it is considered by Hoskinson to be a second-generation blockchain.
How It Works
Part of Cardano's glamour is the amount of maintenance and upkeep it requires. There are three organizations that help maintain it, including The Cardano Foundation, IOHK, and Emurgo.
In 2015, Hoskinson, with Jeremy Wood, created Input Output Hong Kong (IOHK), an R&D company committed to using P2P innovations of blockchain to build accessible financial services for all. They have been contracted to help build, design, and maintain Cardano through 2020.
Cardano's platform is comprised of two layers, the Cardano Settlement Layer (CSL) and the Control Layer.
CSL
The Cardano Settlement Layer (CSL) is used to settle transactions with the platform's native cryptocurrency, ADA. Specifically, it serves as the balance ledger and is the primary layer of the program or platform.
An application of this is changing how data is stored and accessed, depending upon the nation or country's laws.
CSL
The second layer, the Control Layer, is used for smart contracts.
So, how do the two-layers work together? Here's an example:
John needs to hire an electrician to fix his kitchen lights.
John enters into a smart contract agreement that is stored on the computation layer.
The agreement states that as soon as the electrician has fixed John's lights, the agreed funds will be released.
When this happens, the smart contract is transferred to the settlement layer, which allows the electrician to be paid in ADA cryptocurrency.
Everything is fully automated, meaning that there is no need for a third party.
Start buying and trading cryptocurrency
Sign up and start opportunities with the future of currency
Sign Up Now
ADA
Cardano's native currency is ADA, which many use as the platform's actual name. Back in July 2020, the price of ADA increased by more than 85% in less than two weeks, surpassing Bitcoin SV (BSV) to become the sixth-largest cryptocurrency by market capitalization. Industry experts believe the growth to be attributed to the recent Shelley upgrade as well as the rapid growth of the DeFi market.
The Shelley upgrade has had a significant impact on ADA's price, because of its staking system. The developers are continuing to work on the upgrade as of October 2020.
For more information on ADA Coin, please click here.
What's the Industry Saying?
Since September 2020, Cardano has been stuck within the 200 and 50-twelve-hour moving averages, which have created significant hurdles, limiting the price action to a small trading range.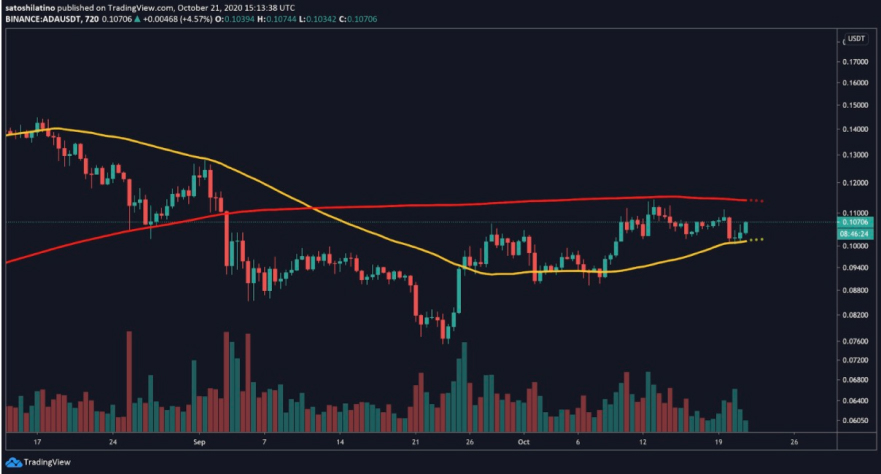 Source: ADA/USD on TradingView
Goguen Launch
In October, Cardano's corporate branch announced the launch of Goguen, which will be released in a 3-phase release at the end of 2020. The first feature has already been released within the metadata transactions.
The second step of Goguen is the transition from a single-asset to a multi-asset system, so that users will soon be able to create their own tokens. Simultaneously, Cardano is also developing the ERC-20 Token Converte, which will allow companies to easily migrate their assets from Ethereum to Cardano.
Litecoin Partnership?
In July 2020, Hoskinson invited the Litecoin Foundation's managing director, Charlie Lee to potentially collaborate on the testing of cross-chain communications between the two cryptocurrencies.
Mid-October, Litecoin (LTC) and Cardano (ADA) announced they were exploring a "Velvet Fork" partnership that will unlock new features in the 10th largest cryptocurrency such as cross-chain communications, smart contract capabilities, and improved scalability. The fork uses a "Non-Interactive Proofs of Work" (NiPoPoWs) mechanism that allows blocks to be verified across different blockchain networks.
A velvet fork is a protocol upgrade mechanism that is performed on a cryptocurrency code--note that it's neither a hard fork nor soft fork because it doesn't require majority consensus.
This change will not affect miners, regardless of whether they choose to upgrade or not.
51% Attacks and Ethereum Classic
Cardano's development company, IOHK has reviewed 6 proposals its received to help mitigate 51% attacks, which help keep Ethereum Classic robust. Back in August 2020, Ethereum Classic's network was hit by at least 3 attacks.
In October 2020, the ETC Cooperative published its report, which explains how these attacks have reduced trust in the ecosystem and raises the possibility of an exit of ETC from exchange platform's lists.
Start buying and trading cryptocurrency
Sign up and start opportunities with the future of currency
Sign Up Now